Microsoft Windows 10 Enterprise (32/64 Bit)  License Key – Digital License Activation – can activate any country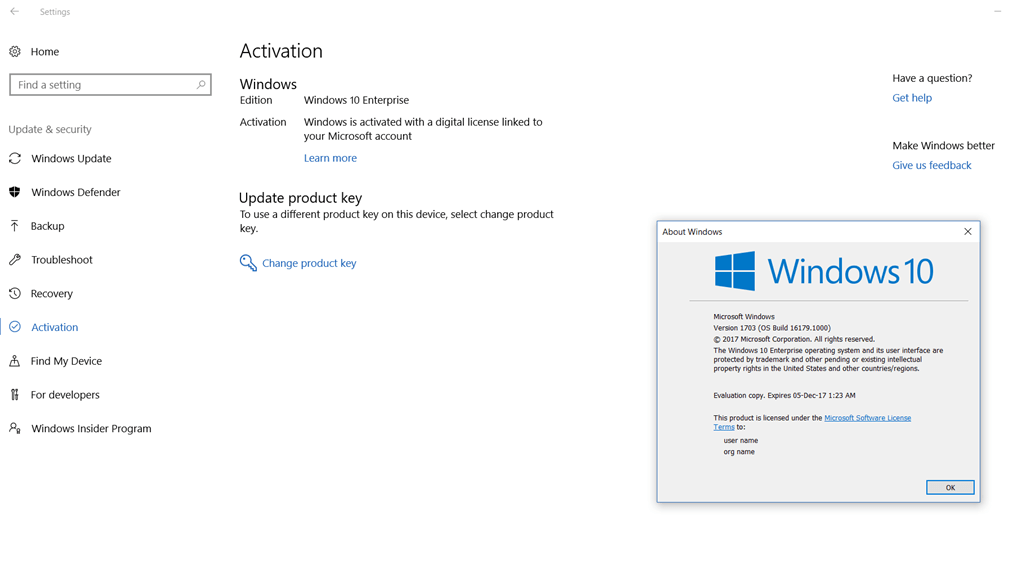 This is a digital license for Windows 10 Enterprise.

This is not compatible with other versions of Enterprise Edition such as LTSC, etc.

The license will work for 32 and 64-bit architecture.

The license will never expire and will last for as long as the installation exists.

Deliver through email.

When you purchased, you will only receive the digital license.

This license is only for activation and not for upgrade nor installation.

This is not a product key but a digital license.

This is not compatible with Windows 10 in S Mode.

Windows 10 can be updated after successful activation.

You can link your Microsoft Account after successful activation.

You can use the product anytime you want, there is no expiration.

We can give you assistance but we won't issue a refund.
Microsoft Windows 10 Enterprise Product Key 32/64 Bit
Manufacturer Microsoft Corporation
MANUFACTURER PART NUMBER KV3-00260
MANUFACTURER WEBSITE ADDRESS http://www.microsoft.com
BRAND NAME Microsoft
PRODUCT TYPE Software Licensing
SOFTWARE NAME Windows Enterprise
PLATFORM SUPPORTED PC
LICENSE PRICING Volume
License Quantity 1 License
Key Features for Businesses in Win10 Enterprise
As part of the Windows NT family, Windows 10 is the first version of Microsoft Windows that receives ongoing feature updates. The Organizational editions including Windows 10 Enterprise, Enterprise LTSB, and Education, Pro Education. The main avenue of acquiring them is a volume licensing contract with Microsoft.
Windows 10 Enterprise offers quite a few exclusive features that aren't available in the Windows 10 Professional edition.
Enterprise Data Protection: Windows Information Protection (WIP), previously known as enterprise data protection (EDP), helps to protect against this potential data leakage without otherwise interfering with the employee experience.
Device Guard: Windows Defender Device Guard is a combination of enterprise-related hardware and software security features that run on Windows 10 Enterprise edition and Windows Server.
Provisioning packages: Windows provisioning makes it easy for IT administrators to configure end-user devices without imaging.
Microsoft Passport: Microsoft Passport is two-factor authentication (2FA) system that combines a PIN or biometrics (via Windows Hello) with encrypted keys from a user's device to provide two-factor authentication.
Credential Guard: Credential Guard security feature in Windows 10 offers protection against hacking of domain credentials & helps prevent taking over of enterprise networks.
Sideloading apps: Windows 10 marks a big shift in philosophy from Windows 8. In Windows 10, you're free to sideload your own universal apps from outside the Windows store — just as you can sideload apps on an Android phone or tablet.
Mobile Device Management: Windows 10 provides an enterprise management solution to help IT pros manage company security policies and business applications, while avoiding compromise of the users' privacy on their personal devices.
Business Store for Windows 10: Designed for organizations, Microsoft Store for Business give IT decision makers and administrators in businesses a flexible way to find, acquire, manage, and distribute free and paid apps in select markets to Windows 10 devices in volume.
Azure Active Directory features: With features and capabilities of Microsoft Azure Active Directory, it will help you connect to any application, collaborate, manage, and protect your identities.
Free access to Microsoft Desktop Optimization Pack: Using the Microsoft Desktop Optimization Pack (MDOP) to virtualize applications, manage group policy, will help to reduce downtime, and monitor compliance.
What are the differences between Windows 10 Pro and Windows 10 Enterprise?
Windows 10 Pro and Windows 10 Enterprise are two editions of the Windows 10 operating system, designed for different types of users and organizations. Here are the main differences between Windows 10 Pro and Windows 10 Enterprise:
Licensing: Windows 10 Pro is a retail product that can be purchased by individuals or small businesses, while Windows 10 Enterprise is licensed through volume licensing agreements for larger organizations.

Features: Windows 10 Enterprise includes all the features of Windows 10 Pro, plus additional features such as AppLocker, DirectAccess, Windows To Go, and Credential Guard. These features are designed for enterprise-level security and management, and are not included in Windows 10 Pro.

Deployment: Windows 10 Enterprise includes additional deployment and management tools, such as the Long-Term Servicing Branch (LTSB) and Current Branch for Business (CBB) options, which allow organizations to control when and how updates are deployed.

Support: Windows 10 Enterprise includes extended support options, such as the ability to use Microsoft's Volume Licensing Service Center for managing licenses and accessing support resources.
Overall, Windows 10 Enterprise is designed for large organizations with complex IT infrastructures and advanced security needs, while Windows 10 Pro is designed for small businesses and individual users who need a basic set of features and functionality.
System Requirements
Required processor: For better performance, We recommend 3 gigahertz (GHz) processor or faster
Required memory: For better performance, 4GB RAM for 32-bit; 8GB for 64-bit
Required hard disk space: Free hard disk space: 30 GB
Required video card: 1024 x 768 screen resolution or higher. Graphics card: DirectX 9 graphics processor with WDDM driver
Required connectivity: Internet access (fees may apply)
Other system requirements: Microsoft account required for some features. Watching DVDs requires separate playback software
Additional system requirements: You must accept the enclosed License Terms, also at microsoft.com/useterms Activation required • Single license • 32 & 64-bits on USB 3.0 media included
Find more Products in techubiz.com's Catalog
Operating System : Windows 11 – Windows 10 – Windows 8.1 – Windows 7
Microsoft Office Suites: Office 2021 – Office 2019 – Office 2016 – Office 2013 – Office 2010 – Office for Mac
Antivirus: Kaspersky – ESET – McAfee – Avast – Bitdefender – Norton – AVG
Microsoft Server: Server 2022 – Server 2019 – Server 2016 – Server 2012
Are you a reseller?
Are you a reseller? Contact us at info@techubiz.com and we will send you a tailor-made price list. Let's work together!