Windows 10 Enterprise builds on the strong foundation of Windows 10 Pro, adding premium features designed to address the needs of larger organizations, including your enterprise or higher education institution. It provides advanced protection against modern security threats, full flexibility of deployment, updating and support options, and comprehensive infrastructure, device, and app management capabilities.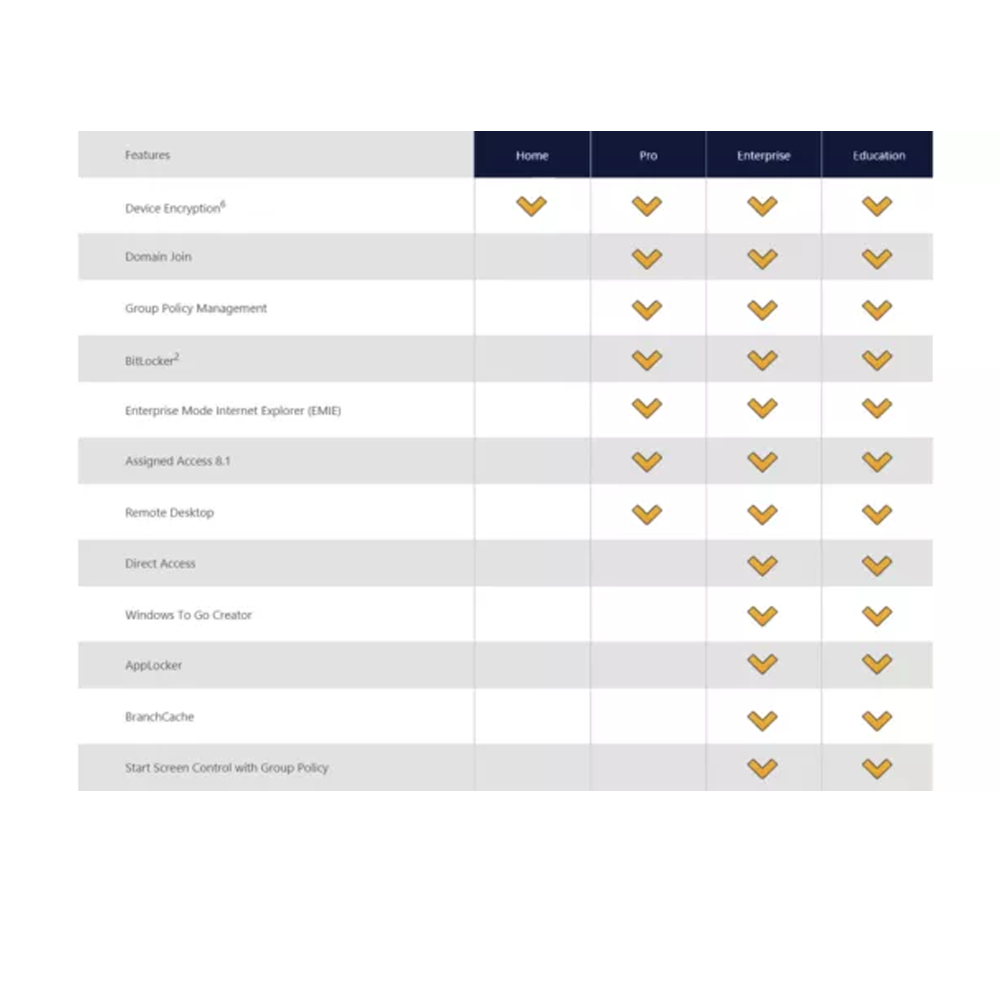 Main Features
Windows 10 Enterprise includes several new features and functionalities, aimed to help your business, including:
Device Guard – A combination of hardware and software security features that, when configured together, allow devices to only run trusted applications.
Device management – A consistent set of mobile device management (MDM) capabilities for PCs, laptops, tablets, and phones so you can manage both corporate and personally-owned devices.
Enterprise Data Protection – A way for you to help protect your corporate data from accidental disclosure through email, social media, and the public cloud.
Microsoft Passport – A way to replace passwords with strong two-factor authentication, consisting of an enrolled device and a Windows Hello (biometric) or PIN.
Provisioning packages – A new way to create packages that lets you quickly and efficiently configure a device without having to install a new image.
Untrusted font blocking – You can turn on a single, global setting to stop employees from loading untrusted fonts onto your network.
Familiar And Easy To Use
The familiar start menu is back and better than ever, to give you quick access to your most important tools. Windows 10 Enterprise works with more hardware and software, including what you already have.
Fast And Smooth
Windows 10 starts quickly, resumes fast and runs apps so smoothly even older machines feel new again. The new Battery Saver feature helps you work and play longer than any other operating system has before.
Peace Of Mind
Windows 10 has upgraded security features, automatic updates and helps you stay current on the latest features and security.
Windows 10 Compatibility
Windows 10 Enterprise is designed to be compatible with programs that run on Windows 7 or Windows 8/8.1. Your documents and files are preserved so you won't need to worry about things getting lost or damaged.
Your Very Own Digital Assistant
Cortana, is your online personal assistant who works across all your Windows 10 devices to help you get things done.
All-new Microsoft Browser
Microsoft Edge is an all-new browser that makes the web work the way you do. You can write or type on webpages and easily share the markups with others.
More multi-doing.
Get great new ways to stay organised and be productive. You can easily snap up to four apps on one screen and create virtual desktops for when you need more space.
Great for Office.
Windows 10 Enterprise is the perfect partner for running the world's greatest productivity suite including Word, Excel, PowerPoint and Outlook. You can find Microsoft Office Packages through our website.
Enhanced encryption.
Get additional security with BitLocker to help protect your data with encryption and security management.
Remote log-in.
Windows 10 Enterprise enables you to log in with Remote Desktop to sign in and use your Pro PC while at home or on the road.
Virtual machines.
Create and run virtual machines with Hyper-V so you can run more than one operating system at the same time on the same PC.
Your apps in the Store.
Windows 10 Enterprise lets you create your own private app section in the Windows Store for convenient access to company applications.
---
Brand: Microsoft
Released on: 08-06-2015
Platform: Windows 10 Enterprise
Format: Windows 10 Enterprise
Compatibility: 32-bit and 64-bit
Language: Multilingual (it is possible to change language settings after installation; Language Interface Packs are also available for download separately)
– NOT compatible with Mac/OSX and/or any Chromebook